William Alexander Cuthbertson
(1882 - 1968)
See also...
Brief biography
Scottish-born artist; born 18th July 1882, Edinburgh; died 3rd January 1968, Maldon in Essex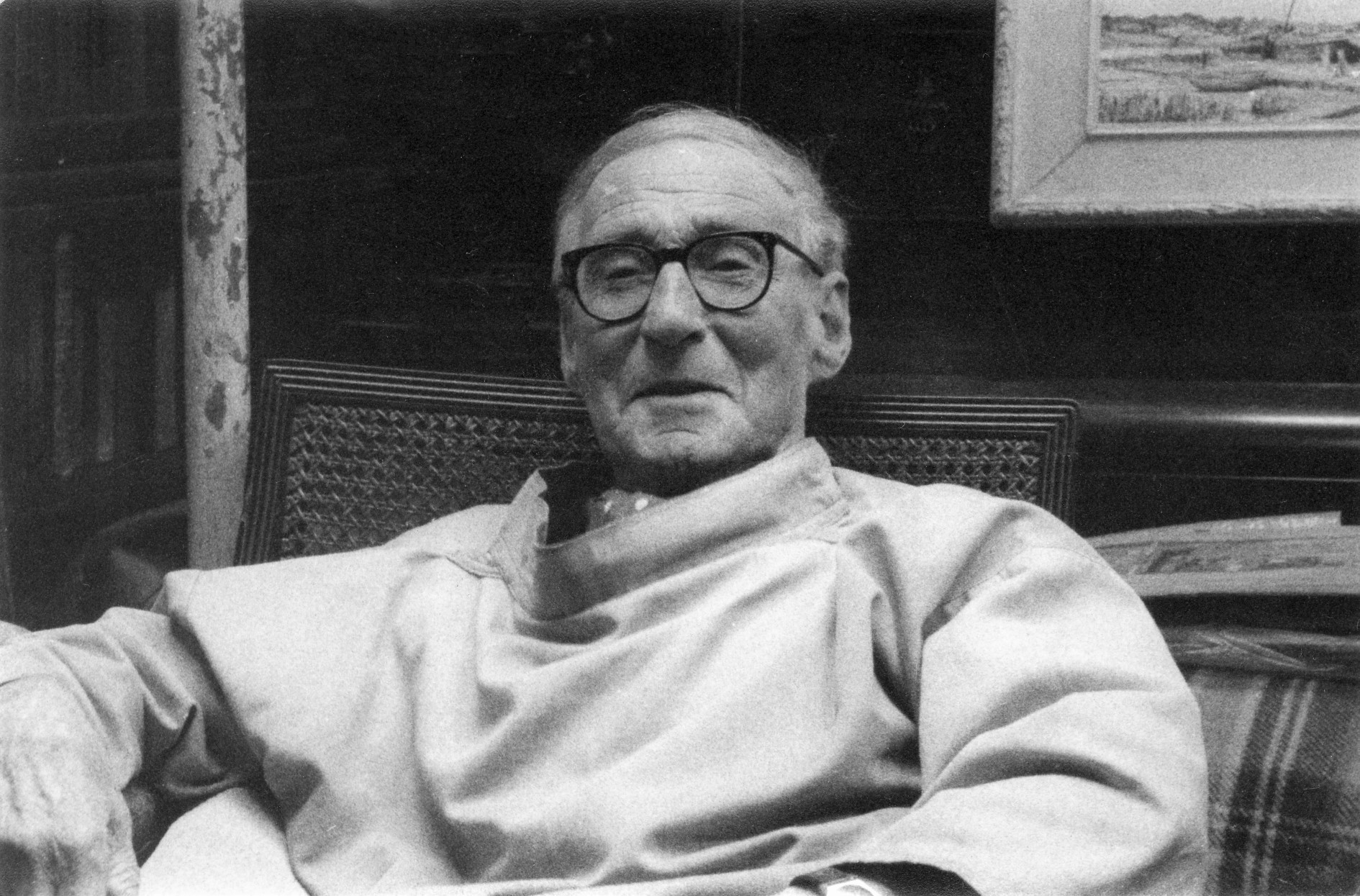 Photograph taken around 1960 of W. A. (Will) Cuthbertson, at the age of around 78, relaxing in the saloon aboard his life-long houseboat home, the 'M.Y. Gracia', when moored at the Hythe Quay in Maldon, Essex. As always, when in casual mode, Will is seen sporting his customary fisherman's smock, but still, as always, worn over a distinctive smart silk cravat.
For his latest book recounting the life and work of William Alexander Cuthbertson, Robin Fanshawe has applied the title: 'W. A. Cuthbertson, Artist-Explorer Extraordinaire -- An Account of the Life and Work of the Artist and Antarctic Explorer, William Alexander Cuthbertson (1882—1968)'
To describe William (Will) Cuthbertson as 'Artist-Explorer Extraordinaire' is far from unreasonable, as the breadth of his life experiences certainly ranged far beyond the ordinary. The author's family were close friends during the latter decades of Will Cuthbertson and his devoted wife, Grace, so this account of his life is written largely from a personal viewpoint, but also following much in-depth research.

Will Cuthbertson was born on July 18th 1882 into a successful middle-class Edinburgh family with several early artist-photographers and miniaturists on his mother's Ross family side, and a father who rose to become an eminent civic dignitary in the city. Will spent a lengthy 11 years studying his elected career in art in Edinburgh and Paris, commencing at the Trustees Academy in Edinburgh, and ending with a final five years at the Royal Scottish Academy (RSA). There he appears to have focused predominantly on portraiture for much of his time, and exhibited regularly over those early years whilst still training.
Throughout his studies, he was awarded an inordinate number of prizes, including being the only person ever to have twice won the RSA's top student award, the Maclaine Watters Medal; and then finally, the Academy's prestigious Carnegie Travel Scholarship to study Velázquez in Spain (where he met his English wife and life-long companion, Grace Prince). He eventually remained in Spain for three or four years, where he became seduced by the brilliant sunlight and colours and into the style of landscape and coastal painting perfected by the Valencian naturalist painter, Joaquín Sorolla -- including a new approach to portraiture that challenged the traditional teaching received whilst at the RSA.

However, his earlier period of study prior to attending the RSA had been dramatically interrupted for two years from 1902 to 1904 when, at the age of just 20, he was invited by William Spiers Bruce to join the Scottish National Antarctic Expedition (SNAE) as official Ship's Artist on-board the 'S.S. Scotia' -- one of the most successful, yet least-heralded of scientific voyages of discovery of the 'Heroic Age' of exploration. Although primarily appointed as artist to record their plethora of scientific discoveries, Will evidently waded-in with all the youthful exuberance and enthusiasm of his age, undertaking every manner of task and duty asked of him on-board the ship, and ashore in the snow and ice of Antarctica, and he thus became a much-respected and valued member of the overall scientific team. It is evident from the published scientific reports of their discoveries that the contribution made by Will through his colourful recordings of all the new flora and fauna discovered by the team were highly appreciated and valued for their fine attention to detail. But from his own personal unassuming point of view, the life-changing experience of the expedition as a whole was to remain with him and influence him for the rest of his life.
The account of this period of Will's life alone is a fascinating story of survival and fortitude for existence itself, through having to 'live off the land' within the sheer hostility of the Antarctic, but even more so for a very young man who had previously never before set foot in a boat of any kind. As a very belated postscript to this 'adventure', in 1987 and some 20 years after Will Cuthbertson's death, the Antarctic Place Names Committee designated a vast snowfield adjacent to the SNAE's base camp on Laurie Island in Antarctica as the 'Cuthbertson Snowfield' in his memory. This would have made him (and Grace even more so) immensely proud, so it is sad that he could never have been made aware of the fact.
Some 10 years after his return from the SNAE expedition, and with his southern Atlantic Polar sailing experience behind him, albeit still fresh in his memory, it became somewhat inevitable that, following his return from Spain in 1913, he would elect to enlist with the Royal Naval Volunteer Reserves (RNVR) to command a Motor Launch (ML) in the Dover Patrol during the First World War. Shortly after his training, he and Grace became married in June 1916, although they inevitably spent their early married years predominantly apart while Will served at sea throughout the war, plus an extra year in 1919 when he volunteered selflessly for the essential aftermath of mine-sweeping duties in the North Sea.
Then after the war, rather curiously -- but in the end, fortuitously -- he happened to come across the very same ML boat that he had commanded during the war put up for sale by the Admiralty; so he promptly purchased her to convert into the houseboat that would become his and Grace's lifelong home -- and which he immediately renamed in Spanish the 'M.Y. Gracia' as a tribute both to his new young wife and to where they had first met.
But with some essential basic conversion work needing to be carried out, it wasn't until late in 1920 that the 'Gracia' was eventually towed around the south-eastern English coastline to her new berth on the canal in the small Essex coastal hamlet of Heybridge Basin -- where they remained, and where Will painted prolifically and largely in watercolour, until the outbreak of WW2. Then, in early 1939, and when he was approaching 58 years of age, Will enlisted once more with the RNVR, initially for mine-sweeping duties again in the North Sea, although he was promptly transferred to become a naval instructor at Chatham.

Following his return from WW2, he and Grace moved the 'Gracia' a short distance further up the River Blackwater estuary, where they settled into a quiet but busy life in the ancient town of Maldon. There he became a founding light in developing and day-to-day running the renowned Maldon Art Club where, for over 20 years, he carried out the duties of both President and Teacher, with Grace ever at his side in the role of Club Secretary. Over the years whilst there, he was actively involved in the early careers of a number of aspiring young artists, some of whom would make names for themselves one way or another -- including, somewhat ironically, the brilliantly talented, but ultimately flawed and infamous art-forger, Eric Hebborn.
Will Cuthbertson carried on painting actively for over 70 years of his life, but as an eternal student of his art, he experimented continually and migrated through different approaches for new achievements. Following his return to England from Spain, and missing the light and heat of Valencia, as well as the influence of Sorolla, he quickly and predominantly migrated into his ultimate specialism of watercolours, albeit still in an ever-evolving style. These eventually settled into the emblematic and peaceful coastal and waterway compositions, painted largely around the Essex and East-Anglian coastline surrounding his cherished haunts of Heybridge Basin and Maldon, and for which he is probably now most well-known.
He always carried on with a number of oil compositions, and occasional portrait commissions too, and he dabbled infrequently in etching and woodblock printing; but whatever the medium, it was his love of boats and the water that never left him, and he is well-recognised for his exemplary depictions of the beloved Thames sailing barges amongst which he had lived and eventually grown old, from his early days when they were still actively-trading coastal work-horses.
He also made a few painting sorties to Holland and the Low Countries, and occasionally to northern Italy and maybe some other locations in Europe too. As a younger man, he only rarely bothered to exhibit nationally, although every year latterly, he led the Maldon Art Club Annual Exhibition with several new works. Nonetheless, and despite his fascinating memories and the stories he was always able to recount, he studiously remained a modest and understated man throughout his life; one who always displayed the greatest kindness and care towards all those whom he met and habitually seem to gather naturally around him, and he never failed to give most freely his time and attention to the needs of others -- both artistically and in life as a whole.
Will Cuthbertson died aboard his beloved boat, the 'M.Y. Gracia', on 3rd January 1968. His wife, Grace, survived him for a further 14 years until Christmas Eve, 1981. The Maldon Art Club still flourishes today, as does much of the prolific product of Will's oeuvre -- largely spread around the walls of innumerable houses across not only the coastal areas of central Essex, but now also equally widely-recognised for their peaceful aesthetic value throughout the country, and occasionally abroad too.
Just finally here, it should be noted that Eric Hebborn, in his autobiography 'Drawn to Trouble - The Forging of an Artist' (Mainstream Publishing Projects, Edinburgh, 1991), records in some detail his purported memories of Will Cuthbertson as his first serious art teacher, in terms that are largely flawed and frequently totally incorrect -- probably, and entirely naturally so, due to his recollections having been of a time from some 40 years earlier when he was still a young teenage lad emerging from a very disadvantaged upbringing after having been placed in care as a child, following Borstal incarceration. This is unfortunate as, with the previous dearth of information available about Will Cuthbertson, it has become inevitable that Hebborn's published accounts have become widely replicated. Correcting this issue has been addressed in some necessary detail within this new book.
There is also, however, just one other matter of misinformation that is often published, and consequently has become equally commonly replicated: This relates to one particular photograph (detail shown below left) that purports to be of Will Cuthbertson, when most certainly it is not! The Royal Scottish Academy has now corrected this information within its own media and, indeed, was responsible for carefully researching and identifying (with grateful thanks) the true identity of the sitter as being one William Smith -- a contemporary, but somewhat older, ship's artist photographed on-board an entirely different expedition ship named the 'Princess Alice', during Prince Albert 1st of Monaco's 1899 Spitsbergen Arctic expedition. The error is emphasised below through the comparative photograph (detail, below right) taken three years later in late November 1902, and showing an evidently very much younger and very differently-featured Will Cuthbertson (with his expedition leader, William Speirs Bruce, to his left side), on-board the 'S.S. Scotia' as they approached the island of Madeira during their voyage south to Antarctica: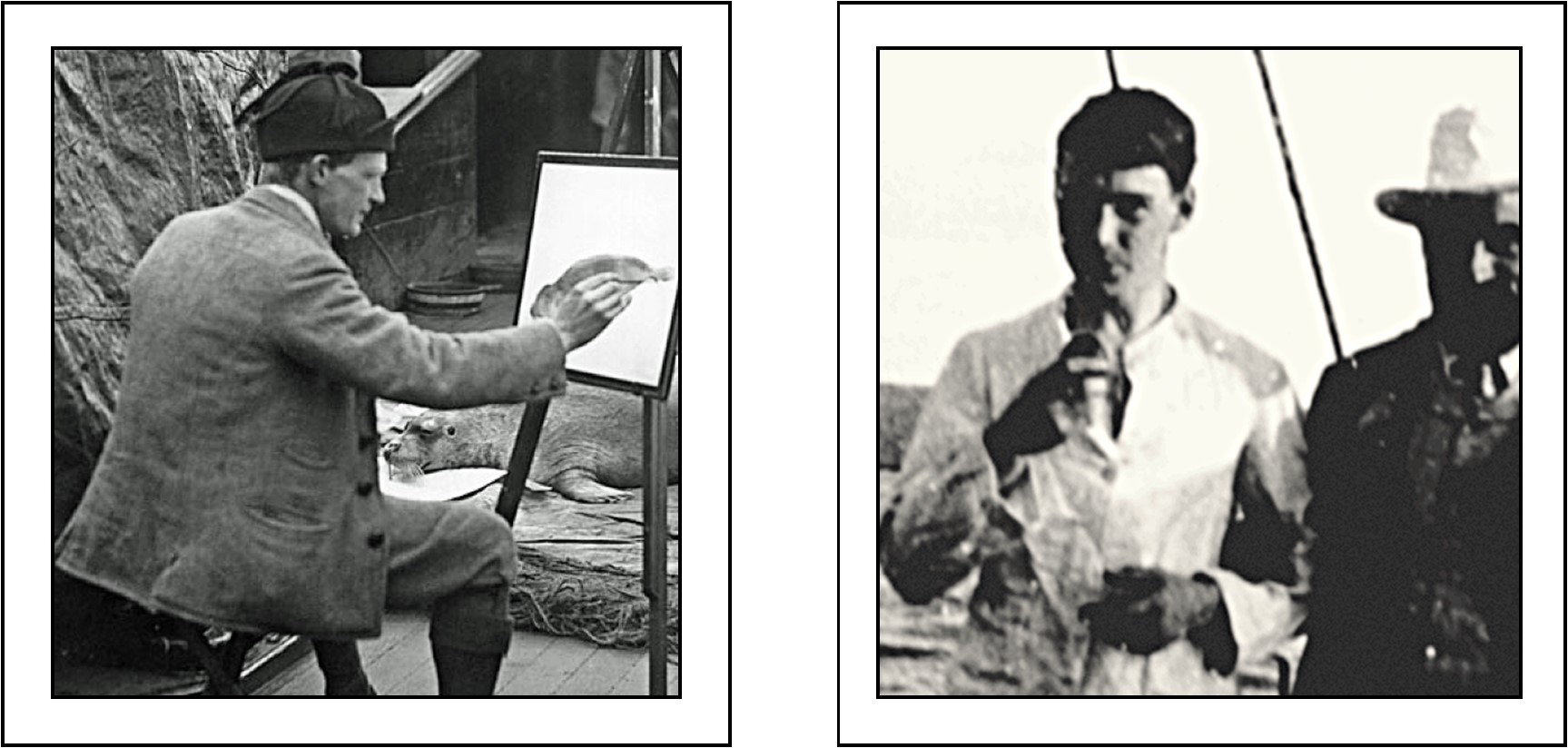 William Smith, ca. 1899 William Cuthbertson, November 1902

For details of the new book, please follow this link to the online bookshop:

'W. A. Cuthbertson, Artist-Explorer Extraordinaire -- An Account of the Life and Work of the Artist and Antarctic Explorer, William Alexander Cuthbertson (1882—1968)'

A number of sample pages are available from the book to give a broader flavour of the content. Again, please follow the highlighted link to access this PDF file.